2012 TT Isle of Man – What You Need To Know
As another year rolls around for the Isle of Man we are faced with the most prestigious motorcycle race in the world. As every street bike enthusiast knows this is a race run in a time-trial  format on public roads that have been closed for racing by the provisions of parliament of the Isle of Man. This year is sponsored by Monster Energy and the excitement is bound to be monumental.
It is hard to compare any motorcycle race in the world when it comes to prestige. Originating in the UK in 1904 with a speed restriction of 20 MPH. The first race was won by Clifford Earl in seven and a half hours. Over a decade later the 2011 senior TT mountain course was won by John McGuiness on a Honda 999CC. His winning time was 1:45.45.80 running an average of 128.426 mph per lap for six laps totaling 236.38 Miles.
For a taste of the excitement watch the highlights 2011 race.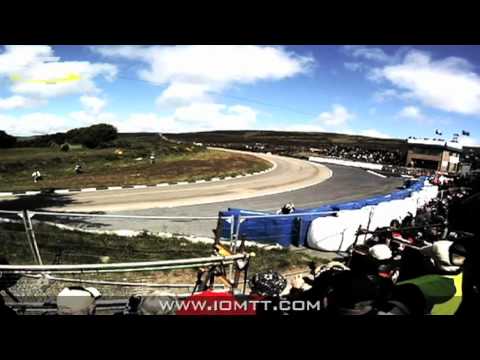 If that doesn't make the hair on your neck stand straight up, watch this on board camera of John McGuiness,s superbike.
This years race proves to be as exciting if not more due to hopeful weather conditions. For most of us the travel to the Isle of man proves to be difficult as does getting the time off for the venture. However, this year the entire event can be viewed directly from your computer at www.ITV.com.
Following is the schedule of events:
Monday, May 28, 9pm – John McGuinness TT Legend
Tuesday, May 29, 9pm – TT Record Breakers
Thursday, May 31, 8pm – The Final Countdown
Thursday, May 31, 9pm – Preview Show
Friday, June 1, 9pm – Practice Show
Saturday, June 2, to Thursday, June 7 (inclusive), 9pm – Race Highlights
Friday, June 8, 10pm – Senior Race Highlights
Monday, June 11, 8pm – Event Review 1
Monday, June 11, 9pm – Event Review 2
Please note the schedule is subject to alteration. Check listings for latest details.
International coverage:
Discovery Turbo (US and Canada)
Network 10 (Australia)
Antenna 3 (Spain)
Additional information can be found at the TT home web site: www.iomtt.com
Posted by
admin
on May 23 2012. Filed under
Featured
. You can follow any responses to this entry through the
RSS 2.0
. You can leave a response or trackback to this entry